Information on this page was last modified on : 2023/05/06 6:55:56 PM
Men's Rogaine 5% Minoxidil Foam for Hair Loss and Hair Regrowth, Topical Treatment for Thinning Hair, 3-Month Supply,2.11 Ounce (Pack of 3)
Alternate brands of Men's Rogaine 5% Minoxidil Foam for Hair Loss and Hair Regrowth, Topical Treatment for Thinning Hair, 3-Month Supply,2.11 Ounce (Pack of 3)
3-month supply of Men's Rogaine 5% Minoxidil Foam treatment for hair regrowth
Formulated with 5% Minoxidil, this topical foam helps treat hair loss and maintain hair density
Our fast-working hair regrowth treatment is clinically proven to regrow up to 25% more hair
Ideal for use at the early stages of hair thinning and allows for the regrowth of fuller hair
The 5% Minoxidil formula works to boost hair follicle activity and hair protein production
Tricho-Prime Technology works on contact to create a healthy hair regrowth environment
From the #1 dermatologist-recommended brand, this anti-hair loss foam also conditions the scalp
Men's hair growth treatment comes in an easy-to-apply foam designed to fit into your daily routine
Help treat hair loss and regrow fuller hair with Men's Rogaine 5% Minoxidil Topical Foam. Ideal for use at the early stages of hair thinning, this fast-working hair regrowth treatment is clinically proven to regrow up to 25% more hair in 12 weeks. Unlike hair loss shampoos and hair thickening products that temporarily plump hair from the outside, Rogaine penetrates the scalp to reactivate shrunken hair follicles, allowing for regrowth of hair. The 5% Minoxidil formula works to boost hair follicle activity and hair protein production, while Tricho-Prime Technology uses a proprietary combination of ingredients to create an optimal environment for hair regrowth. This men's hair re-growth treatment also contains botanical extracts and emollient to help maintain a healthy, conditioned scalp, plus alpha hydroxy acid (AHA) to promote natural skin exfoliation to help keep follicles open. It comes in a no-mess foam that is easy to use and is designed to fit easily into your routine.
Made in United States
See enclosed booklet for complete directions on how to use
Apply half a capful 2 times a day to the scalp in the hair loss area
Massage into scalp with fingers, then wash hands well
Using more or more often will not improve results
Continued use is necessary to increase and keep your hair regrowth or hair loss will begin again
Other information
Hair growth has been shown in a clinical study of men (mostly white) aged 18-49 years who used it for 4 months
See hair loss pictures on side of this carton
Before use, read all information on package and enclosed booklet
Keep the package. It contains important information.
Store at controlled room temperature 20 to 25 C (68 to 77 F)
Contents under pressure. Do not puncture or incinerate container.
Do not expose to heat or store at temperatures above 120 F (49 C).
Ingredients
Men's 5% Minoxidil Foam For Hair Regrowth
Active Ingredients: Minoxidil w/w (without propellant) – 5 % (Hair Regrowth Treatment for Men)
Inactive Ingredients: butane, butylated Hydroxytoluene, cetyl alcohol, citric acid, glycerin, isobutane, lactic acid, polysorbate 60, propane, purified water, SD alcohol 40-B, stearyl alcohol
Warnings
For external use only. For use by men only.
Extremely Flammable: Avoid fire, flame, or smoking during and immediately following application.
Do not use if
You are a woman
Your amount of hair loss is different than that shown on side of this carton or your hair loss is on the front of the scalp. 5% minoxidil topical foam is not intended for frontal baldness or receding hairline.
You have no family history of hair loss
Your hair loss is sudden and/or patchy
You do not know the reason for your hair loss
You are under 18 years of age. Do not use on babies and children.
Your scalp is red, inflamed, infected, irritated, or painful
You use other medicines on the scalp
Ask a doctor before use if you have heart disease
When using this product
Do not apply on other parts of the body
Avoid contact with the eyes. In case of accidental contact, rinse eyes with large amounts of cool tap water.
Some people have experienced changes in hair color and/or texture
It takes time to regrow hair. Results may occur at 2 months with twice a day usage. For some men, you may need to use this product for at least 4 months before you see results.
The amount of hair regrowth is different for each person. This product will not work for all men.
Stop use and ask a doctor if
Chest pain, rapid heartbeat, faintness, or dizziness occurs
Sudden, unexplained weight gain occurs
Your hands or feet swell
Scalp irritation or redness occurs
Unwanted facial hair growth occurs
You do not see hair regrowth in 4 months
May be harmful if used when pregnant or breast-feeding.
Keep out of reach of children.
If swallowed, get medical help or contact a Poison Control Center right away.
To regrow hair on the top of the scalp (vertex only, see pictures on side of carton)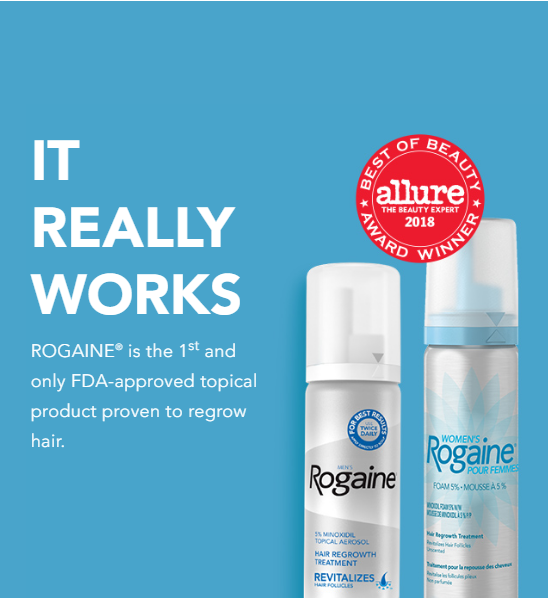 Rogaine unscented foam is the #1 dermatologist recommended brand globally for thinning hair that can increase hair regrowth by 25%
How Rogaine Works ?
Rogaine stimulates hair follicles to regrow healthy hairs through the revolutionary formula patented Tricho-Prime technology, the magical ingredients including Minoxidil, ALPHAHYDROXY ACID and other botanical extracts and emmolient.
How to use Rogaine
Dry your hairs with towel
Clean your fingers and dispense approximately half cap
Apply on affected areas twice a day and message with your finger tips gently
What if I stop using Rogaine ?
The normal hairloss will occur again and you will loose your newly grown hairs in 3-4 months.
When can I expect the results ?
You will witness the results in 3-4 months of regular application/usage and with continued usage you will experience improved hair coverage.
Results in Pakistani Men
Watch the following video by Dr. Rana Irfan
How it works
Men's Rogaine 5% Minoxidil Foam for Hair Loss and Hair Regrowth, Topical Treatment for Thinning Hair, 3-Month Supply,2.11 Ounce (Pack of 3) is a potassium channel opener, causing hyperpolarization of cell membranes. Theoretically, by widening blood vessels and opening potassium channels, it allows more oxygen, blood, and nutrients to the follicles.
Concerns
Frequently asked questions
Onset of action

Duration of Effect

Safe with Alchohol?

Is it habit forming?

Usage in pregnancy?

Usage while breast-feeding?
References
Additional Information:
One of the following licensed pharmacy from the nearest location will deliver Men's Rogaine 5% Minoxidil Foam for Hair Loss and Hair Regrowth, Topical Treatment for Thinning Hair, 3-Month Supply,2.11 Ounce (Pack of 3). The details of the licensed pharmacy shall be shared once you request the drugs and the respective pharmacy accepts your request based on valid prescription and availability.
Want to share this information?
Something doesn't feel right ?
Questions and Answers
There are no answers for this question yet.

Answer now
Only registered users are eligible to enter questions
Start typing and press enter to search